In this Newsletter:
Message from the Chair
Candidate Updates
GWCDP News
Our Community
News & Noteworthy
Upcoming Events
---
Message from the Chair
Yes, a bunch of Republican Senators just went on the record saying it's perfectly A-OK for a sitting US President to incite a mob attack on our nation's Capitol. To be honest, there's already so much that's been said on that subject, I don't think I can add any new insight or perspective. History will remember it for what it was.

Instead, I'd rather share that I'm actually feeling quite hopeful and optimistic about our future! Below, you will read about our Volunteer of the Month, Tammy Sampson. It is my view that our most precious resource in the Greenwood County Democratic Party are the volunteers. Without people like Tammy who play a role in spreading the Democratic way, we're no more than a social club – and social clubs simply do not change the world!

As Dr. Robert Saul shared with us at our last Virtual Breakfast Meeting, everyone can play a part, no matter how big or small. Dr. Saul works to improve the community through his words and published books and letters. Tammy played her part out on the streets distributing signs and driving neighbors to the polls.

In this newsletter, you will see many other examples of those volunteers who are making a difference one conversation, one distributed meal, one educational seminar, one poem at a time. YOU can get involved in your special way as well. Help edit a video, design a brochure, write some postcards, stuff envelopes, share a post on Facebook, represent a voting precinct, or even run for office!
If you are curious about how to get started, join me at my first ever Virtual Office Hour this Monday, Feb. 15 at 6 pm. You can connect via Zoom or call in on your phone (312) 626 6799, Meeting ID: 815 2263 4736. I truly look forward to hearing from you!
---
Candidate News
School Board Elections
School District 51 (Ware Shoals) and School District 52 (Ninety Six) are holding elections for positions within their respective Board of Trustees on May 11, 2021.
If you are interested in running, you can learn more about each of the School Boards by following the links below:
Then visit Greenwood County Voters Registration Office to pick up filing forms. Candidate filing starts THIS TUESDAY Feb 16 at noon and is open through Mar 2 at noon.
600 Monument Street, Suite 113
Greenwood, South Carolina 29646
Serving as a School Trustee is a great way to give back to the community and help shape the direction of our children's education!
---
Turn SC Blue in '22!
This is the time for good citizens who believe in Democracy and in the potential of the United States to be a land of opportunity for all to take the bold step and run for an elected office! The State and local Democratic Party is there to help you every step of the way!
If you have the slightest bit of interest or curiosity about running for office, click on the image below.
---
GWCDP News
Virtual Breakfast Meeting
Last weekend we held our February Virtual Breakfast meeting. We were fortunate to have Dr. Matthew Logan speak to us about the COVID vaccine, Dr. Robert Saul about writing letters to the IJ and raising children to be good citizens, and a number of other wonderful guests.

Click the image below to see the notes we've compiled from the meeting along with links to the YouTube recordings of all the segments!
---
Volunteer of the Month
We thank Ms. Tammy Sampson for her hard work and dedication during the November election. She helped distribute dozens of yard signs and took it upon herself to drive some elderly neighbors to the polls. It's people like Ms. Tammy that make all the difference in the world!
We were honored to recognize her efforts with a certificate and a limited edition poster of the President and Vice President of the United States.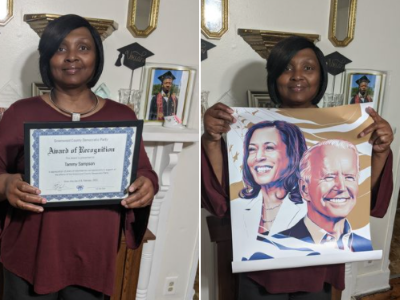 ---
---
Our Community
Did you see that the Greenwood County Democrats made the front page of the Index-Journal last week? Thanks to our CCM Director Wanda Moore, as well as April Tumminelli, George Swindell, and countless donors, our efforts to be a positive force in Greenwood County is getting recognition! Click on the image below to read the wonderful writeup. Democrats Care!
---
The next Community Care Movement activity will be a seminar that could literally save your life! Sign up via Mobilize today.
---
News & Noteworthy
Our friends at the Greenwood County Diversity Group are presenting Part 2 of their Poetry of a Nation Series, this time featuring a host of female poets!

This will be held on Sunday, Feb 21 at 2 pm. Register to connect to this free, virtual event over Zoom!
---
Upcoming Events
GWCDP Chair Office Hour
Mon, Feb 15
6 pm – 7 pm
Zoom
School Board Candidate Filing opens
Districts 51 & 52
Tue, Feb 16
12:00 pm
Greenwood County Calendar
GWD County Council
Tue, Feb 16
5:30 pm
Greenwood Public Library
Watch on YouTube
Race and Identity Dialogue
Personal Writing as Personal Reckoning
Thu, Feb 18
5:30 pm
Register
GWCDP Executive Committee
Thu, Feb 18
6 pm
Heart Health Awareness
Sat, Feb 20
10 am
Signup via Mobilize
Greenwood County Diversity
Poetry of a Nation, Part 2
Sun, Feb 21
2 pm
Register via Zoom
Greenwood City Council
Mon, Feb 22
5:30 pm
Municipal Building
520 Monument St., Room 2012
Watch on FB Live
Electoral Initiative: The Engaged Citizen
Stories from Activists
Mon, Feb 22
5:30 pm
Register