In this Newsletter:
Message from the Chair
Candidate Updates
GWCDP News
Our Community
News & Noteworthy
Upcoming Events
---
Message from the Chair
I sincerely wish you a safe, healthy and happy 2021! There's been enough loss and pain in 2020 to last us a decade. A New Year allows us to mentally wipe the slate clean and build upon a hope for a better future – one we all can have a hand in shaping.
We have an information-packed newsletter today, so I'll just leave you with a "mood" that I'm feeling at the moment. I hope you share the same feeling!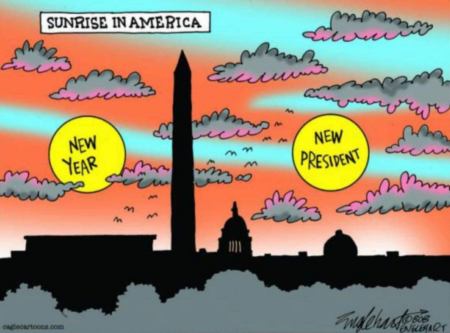 ---
Candidate News
Congratulations to Patricia Partlow on being elected to the Greenwood City Council representing Ward 2!
Patricia will be sworn in at the next regular city council meeting on January 25. We're confident she will be a positive force of change for the residents of the City of Greenwood and extend to her an open invitation to speak with us whenever she has something to share!
---
Search & Support committee
GWCDP 1st Vice Chair, James Thompson, will be spearheading our Search & Support Committee.
This committee aims to recruit Democratic candidates for all positions that are up for election in 2022 and provide support & guidance for those that are new to political campaigning.
The kickoff meeting for the 2022 election cycle will be on Thursday, Jan 14 at 6 pm via Zoom. If you wish to participate in this effort and help achieve success on Nov 8, 2022, please e-mail info@gwdcountydems.org to get the Zoom meeting information.
If you are interested in learning about running for office, contact James at jetbyrd461@gmail.com or (864) 993-5161.
---
GWCDP News
Virtual Breakfast Meeting
We have an exciting lineup for our next Virtual Breakfast Meeting on Saturday, Jan. 9 at 9 am! We will hear from Greenwood County Diversity about their efforts in our community, a legislative update from Rep Anne Parks, and a special Q&A with our friend and former Representative Mandy Powers Norrell! To help kick off our candidate recruitment effort, Mandy will share her experiences of deciding to run for elected office.

Sign up via Mobilize to get information on how to watch. You won't want to miss this!
---
Inauguration Day
The Inauguration of Joe Biden as the 46th President of the United States of America will be on Wednesday, January 20.
A detailed schedule of events has not yet been released, but we're monitoring bideninaugural.org for updates.
We do know that in-person attendance will be very limited. However, we will be hosting a Zoom Watch Party so we can share in this historic moment together.
Sign up via Mobilize to sign up and receive information on how to join!
---
Young Democrats of Greenwood
The YDG is a Lander University based group but they do welcomE any Democrat under the age of 40, including high-schoolers!
Read the latest newsletter from their Chair, Jitwan Floyd. Send Jitwan an e-mail if you wish to get involved or to be put on their mailing list (his address is at the bottom of the newsletter).
---
Our Community
For December's Community Care Movement activity, the GWCDP partnered with Pine Grove AME and Weston Chapel AME Churches to distribute small gifts to the residents of Phoenix Place Apartments. There was a great turnout with many energetic children walking away with smiles on their faces. Thank you to Wanda Moore for organizing this!
Pictured above are GWCDP Chair, Bill Kimler,
Wanda and Bruce Moore and their granddaughter.
---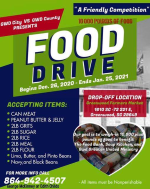 For January's Community Care Movement activity, we will join in the annual City vs County Food Drive. Click on the image to the right to see an enlarged poster with the information.
Not since the Great Depression have so many Americans gone hungry. Food Pantries all over the country are experiencing a record number of families showing up in need. Let's give what we can and show that Democrats Care!
To foster the spirit of friendly competition we suggest that if you live in the City, donate to the City team; if you live outside of City limits, donate to the County team.
The drive to collect non-perishable food ends on January 25. Please join us in our efforts to make this a successful campaign. Stay tuned for more information about dropoff locations so that we can gather and deliver the food on behalf of the GWCDP. If you wish to contribute money to our effort and let us do the shopping for you, please contact our CCM Director, Wanda Moore, at wandamoore320@gmail.com or (864) 554-5702.
---
Bowers-Rodgers Children Home
We were saddened to learn that the Bowers-Rodgers Children's Home, which has served children in distress from across the state for decades, will be permanently closing at the end of this month.
This was a result of a shift in how South Carolina handles children in need, shifting away from group homes towards foster care and family stewardship. We thank all of the staff, especially the current executive director, Ti Barnes, for their service to our community and its most vulnerable members. 
---
News & Noteworthy
The Index-Journal published an informative article last week about the various pieces of SC Legislation that were pre-filed by Greenwood County representatives. Of course Representative John McCravy and Senator Billy Garrett held hands and filed draconian anti-choice legislation. Representative Anne Parks co-sponsored hate crimes legislation introduced by Rep. Wendell Gilliard.
Most baffling were 19 bills filed by Representative Stewart Jones (Greenwood & Laurens Counties) some of which are explicitly pro-COVID-19. It elicited the following response from Greenwood County Councilman Steve Brown:
---
We were going to go into detail about how Congressman Jeff Duncan voted against the $2000 COVID Stimulus bill that passed the House (thank you, blue wave of 2018). We were also going to bemoan the sad stunt he plans to pull on Wednesday to object to the certification of the Electoral College votes. But Jeff is just being Jeff: An ineffectual right-wing extremist who has no ideas, only an ideology.
So instead, we'll conclude with some great legislative ideas that have been submitted by Democrats across the state and support them in meaningful change that can pull South Carolina out from the bottom of most rankings that matter.
---
Upcoming Events See our Calendar Page for these and other upcoming events.
Greenwood City Council – Special Session
Discuss mask-wearing ordinances
Mon, Jan 4
5:30 pm
Municipal Building
520 Monument St., Room 2012
Watch on FB Live

GWD County Council Meeting
Tue, Jan 5
5:30 pm
Greenwood Public Library
Watch on YouTube

GWCDP Virtual Breakfast Mtg
Sat, Jan 9
9 am – 10:30 am
Sign up via Mobilize

 SC Legislative Assembly convenes
Tue, Jan 12, 12 pm
Watch Live

Search & Support Committee
Thu Jan 14
6 pm – 7 pm
E-mail info@gwdcountydems.org if interested in participating

GWD County Council Meeting
Tue, Jan 19
5:30 pm
Greenwood Public Library
Watch on YouTube

Inauguration Watch Party
Wed, Jan 20
Time TBD
Sign up via Mobilize
Please forward this to a family member or friend!