In this Newsletter:
Message from the Chair
Candidate Updates
GWCDP News
Our Community
News & Noteworthy
Legislative Updates
Upcoming Events
---
Message from the Chair
Tomorrow marks the end of one of the most difficult periods of our country's history and despite that, I still owe Donald J. Trump a small debt of gratitude.

I recently was surprised to discover that I had been quoted in the Index Journal back in September of 2017.
Kimler, who for most of his life was disinterested in politics, said he became active in the organization after the presidential election in November.

"My first meeting was wall to wall, packed with a lot of concern and a lot of people upset, and that hasn't diminished," he said. "I've been ambivalent about politics my entire life. When you start to motivate the politically lazy, you know you're in trouble."
It wasn't the election of Trump to office that turned me into an activist. It's what he did immediately after taking office, starting with the disgraceful Muslim travel ban, that drove me to my first Democrat meeting. And just about every disgraceful action since, done under the cover and protection of the Republican Congress and Senate, has fueled my energy ever since.

And now that Trump's presidency has resulted in the loss of the White House, Senate, and Congress for the Republicans it appears I wasn't alone in that motivation. Dare I say my quote now sounds a bit prescient?

But before I crown myself as the next Nostradamus, one of the most valuable lessons we must never forget is that our Democracy is precious and fragile. We were just one failed businessman and gameshow host away from becoming one of those nations that enter into the history books as part of dark chapter. Can we keep the momentum alive and continue to fight for what is decent and right even when the shift in power in Washington DC is currently in our favor? I sure hope and pray we do.

We can prevent sliding back to the Trump years by volunteering to help with messaging and education, voter registration, and community service. We need you to throw your hat in the ring and be a voice for us who are in desperate need of representation. Let us learn and grow from this experience.
---
Candidate News
Patricia Partlow will be sworn in at the next Greenwood City Council meeting on Monday, Jan 25 at 5:30 pm. If you are member of Ward 2, show up in support of your new City Council Representative!
---
Swearing in Ceremony
Join us for a Virtual get-together as we watch the swearing-in ceremony of our next President and Vice-President on Wednesday!!
The inaugural ceremonies will begin with the national anthem and invocation around 11:30 a.m. ET. Vice President-elect Kamala Harris is expected to be sworn in by Supreme Court Justice Sonia Sotomayor shortly before noon.
President-elect Biden will then be sworn in by Chief Justice John Roberts at noon ET on the Capitol's West Front, as is tradition.
We will live stream the proceedings in a virtual Zoom room. We've also uncovered a small leftover supply of Biden-Harris signs and bumper stickers. Attendees will get them on a first-come, first-served basis while supplies last!
Sign up via Mobilize for connection information, reminders, and updates.
---
GWCDP News
We are embarking on a Greenwood County Democratic Party photo archive project. Do you have any photos that you've taken from previous GWCDP events? Please send them our way along with identifying names of the photo subjects where possible. We feel it's important to capture the very rich history of the the GWCDP!

E-mail info@gwdcountydems.org if you have photos or questions.
---
GWCDP Chair, Bill Kimler, has been sharing a list of news articles that may be of interest to you on the Party's web site daily. If you're looking to stay on top of current events and issues, check the site out regularly or follow the #GWCDP_reading search term on Twitter.
---
Our Community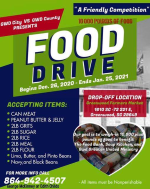 Martin Luther King Jr. Day is also known as a Day of Service to our nation and communities in his honor. There is an opportunity for each one of us to continue to do our small part each and every day.
We have until Monday, Jan 25 to participate in the City vs County Food Drive. Click on the image to the right to see an enlarged poster with the type of food being collected and drop it off at Tony's Salad Bowl (next to Ollie's on the Bypass).
If you wish to contribute money to our effort and let us do the shopping for you, please contact our Community Care Movement Director, Wanda Moore: wandamoore320@gmail.com  or (864) 554-5702.
---
In the last newsletter, we shared with you information about a free educational series on Race and Identity that is being offered by Lander University, with the first seminar "Prejudice, Privilege, and Power" being held this Thursday!
As part of an multi-university initiative, Lander is also offering a series of a more political nature titled "Electoral Initiative". The 11 events in the series are free, open to the public, and accessible via the SC Humanities website. Registration is required to participate.
Some sessions including "Not Your Founding Fathers' Electoral College" and "Social Media in American Elections and How to Spot the Trolls" have already occurred and are available for viewing.
Others are coming up soon, including:
Jan 19: Interpreting the Results of the 2020 Elections
Jan 25: Post Inauguration Day Analysis: Where do we go from here?
Feb 8: Lessons from November: Who voted, who didn't, and why does it matter?
Feb 15: Ranked Choice Voting (RCV): A Better Alternative?
and much more. Take advantage of this opportunity to be a better informed voter!
---
Our friends at the Greenwood County Diversity group sponsored an event titled: "Connecting with the Dream, Poetry of a Nation" last weekend. Distinguished readers from across the county recited poems by Langston Hughes, Robert Frost and Greenwood's own Fred Bassett. You can catch the recorded event on YouTube.
---
News & Noteworthy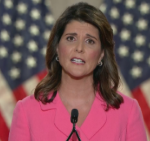 Our friend, John Sukovich (from the Newberry County Democrats) shared with us the not-so-secret plan that ex-governor Nikki Haley is preparing for an eventual run at the Presidency in 2024.
According to Forbes:
Nikki Haley Launches PAC Ahead Of Rumored 2024 Presidential Run

"Haley, 48, has for years been seen as a rising star in the Republican Party, and is now widely rumored, especially among media and political insiders, to make her first run for president in 2024."
Share your thoughts on a potential Haley candidacy. What do you feel are her strengths and weaknesses? You can reply to this e-mail or share your comments on the Greenwood County Democrats Facebook page.
---
Oh, and our seditious Congressman was in the news recently:
---
Legislative Updates
With all the problems facing our State, the Republican-dominated legislature is laser-focused on pushing through the so-called "fetal heartbeat bill". As Sen. Mia McLeod stated in the Democratic response to the recent State of the State address:
"Protecting life in the womb has become the politically expedient mantra of South Carolina Republicans. In fact, you and other Republican leaders have made a divisive, unconstitutional bill your number one priority again this session, instead of focusing on protecting the 5 million living, breathing human beings who are already here."
An excellent summary of this bill and its context in light other similar efforts across the nation was given by Andy Brack in his recent IJ guest column "Mind-numbing, time-wasting abortion debate on the table again". It's well worth the read.
---
---
Upcoming Events
GWD County Council
Tue, Jan 19
5:30 pm
Greenwood Public Library
Watch on YouTube

Interpreting the Results of the 2020 Elections
Tue, Jan 19
7 pm
Register

Inauguration Watch Party
Wed, Jan 20
11:30 am – 1 pm
Sign up via Mobilize

Prejudice, Privilege, and Power
Thu, Jan 21
5:30 pm
Register

GWCDP Executive Committee
Thu, Jan 21
6 pm

City vs County Food Drive
Ends Mon, Jan 25

Greenwood City Council
Swearing in of Patricia Partlow
Mon, Jan 25
5:30 pm
Municipal Building
520 Monument St., Room 2012
Watch on FB Live

Post Inauguration Day Analysis: Where do we go from here?
Mon, Jan 25
5:30 pm
Register

GWD County Council
Tue, Feb 2
5:30 pm
Greenwood Public Library
Watch on YouTube

The Story of Dr. Benjamin E. Mays
Thu Feb 4
5:30 pm
Register

Virtual Breakfast Meeting
Sat, Feb 6
9 am – 10:30 am
Sign up via Mobilize